Pro one™ for Clinicians. Want to learn more even more? See our pro one™ page:
Web based technology allows businesses to reach consumers, anywhere in the world; and is now being used to support clinicians around the globe, to compare clinical outcomes across national borders.  Amplitude, as an international enterprise, is pioneering the way in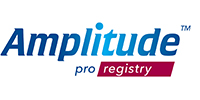 Clinical Registries are becoming increasingly popular and more commonplace amongst specialist societies and other clinical groups and organisations.   Understanding outcomes for patients, in all clinical specialties, is at the centre of any registry; but until recent times, data capture and
The paper was reviewed by Nick Black, who stated in his review "This is a very welcome demonstration of the feasibility of implementing PROMs data capture using electronic technology. Although there has been much talk of such a development (and
The collection of patient reported outcome measures, also known as 'outcome data', is fast becoming an industry standard across the NHS and private healthcare providers. As such, although it isn't always a popular measure, healthcare organisations are being forced to
Orthopaedic Product News - August 2015 A decline in post-fracture rates of mortality and improved levels of care. Launched in 2007, the UK National Hip Fracture Database (NHFD) is one of many initiatives aimed at increasing the quality of healthcare made available
Patients need to be motivated and whether this is extrinsic or intrinsic motivation, patients, like humans in all walks of life need to be motivated and driven to complete a task. It comes to no surprise that many people across the
On 5 May the HHS, Department of Health and Human Services, made the announcement that they would deliver $101 million to new community health centres totalling 164 across the United States in an effort to boost outcomes in patient healthcare.