Using PROMs to Support Rheumatology
Amplitude pro enterprise™ Rheumatology: The platform that gives you an accurate whole picture view of your Rheumatology department.
The platform primarily enhances and supports an outcome driven service in rheumatology patient care, through clinical and patient reported outcomes.
Amplitude is unique because it has pre-loaded data forms that enable users to easily record appropriate and accurate clinical records and severity scores. This means that deviations from expected response and progress, or untoward reactions to treatment regimens are flagged up early. Clinical decisions to modify or alter treatment are therefore simple and easily implemented because of real-time availability of historical treatment and progress.
Being web based, the system gives patients the freedom to complete scores online, anywhere and on any device, whilst the clinicians' dashboard gives clinicians the ability to quickly input treatment and patient specific data. All data is available in near real-time for reporting and analysis.
The inflammatory arthritis pathways including Rheumatoid arthritis (RA), Psoriatic arthritis (PsA) and Ankylosing spondylitis (AS) are available in an off the shelf system, making set up in your department, quick and easy.
Clinical Benefits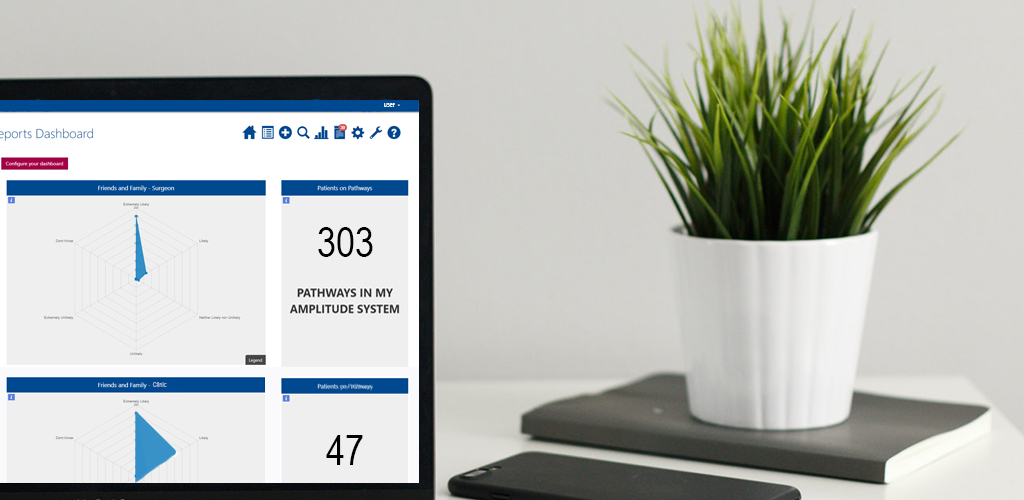 • Confirming diagnosis through validated criteria
• Supports "Treat to target" model of care in managing inflammatory arthritis such
as Rheumatoid arthritis, Psoriatic arthritis and Ankylosing spondylitis and
CTD/vasculitis
• Tracking patients' progress by regularly recording clinical and patient reported
outcomes, supported by timely prompts and reminders for clinicians and patients
• Enables broad decision-making to achieve sustained remission in our patients.
• Chronological recording of disease activity scores, specific lines of treatment
choice and treatment safety supports this process
• Supports data acquisition to meet national and local guidelines for prescribing
and monitoring biologic therapy effectiveness and safety, and cost effective
switching to biosimilars