Background
The BSSH Registry is governed by the British Society for Surgery of the Hand (BSSH), which is the information and education body for hand surgery in the UK.
The registry, commonly known as the UK Hand Registry, was first established in 2011 and aims to improve the level of care given to patients with hand injuries or disorders, whilst also promoting and directing the development of hand surgery in the UK.
The BSSH sought a change from their previous bespoke system to an alternative.  The BSSH Council therefore undertook the challenge of finding a new patient and clinical outcomes provider that would meet their data collection and security needs, both now and in the future. After a tender process, Amplitude Clinical Outcomes was chosen for the role.
The Approach
Before work began, Amplitude worked closely with BSSH Council members to understand their clinical focus, registry aims, and data reporting requirements.
On October 14th, 2018, the new UK Hand Registry was launched, supported by Amplitude's pro registry™ platform. This simplified the process of managing a large-scale registry by providing a centralised platform for data collection, monitoring, and analysis. It eliminated the need for manual or fragmented data entry whilst ensuring high compliance with regulatory requirements and standards.
This transition took time, but the payoff was substantial. With enhanced efficiency, improved security, and streamlined operations, the BSSH witnessed the benefits of a strong collaborative partnership with Amplitude.
With BSSH highlighting that one of their requirements was patient anonymity, Amplitude's pro registry™, combined with BSSH's Caldicott Guardian Approval, ensures the protection and confidentiality of people's health and care information and certifies proper use.
The Results
With almost 16,000 patients now registered on the UK Hand Registry, and over 100,000 patient and clinical forms completed, the BSSH has tools that allow surgeons to analyse their own outcome data, and facilitate basic benchmarking to their peers.
Several graphs outlining the growth of the UK Hand Registry can be seen below: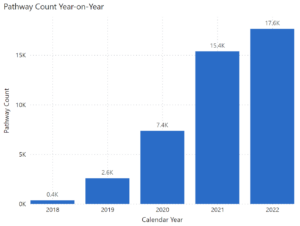 Amplitude has facilitated the collection of the BSSH's surgical data management for nearly five years, with the pro registry™ platform successfully enhancing the BSSH's operations in numerous ways:
DIGITISATION AND CUSTOMISATION:
Amplitude empowered the BSSH to configure their updated registry platform, allowing them to capture specific data points and outcomes relevant to their speciality.
ENHANCED EFFICIENCY:
Through Amplitude's user-friendly interface and comprehensive tutorial videos, clinicians quickly adapted to the platform. This led to streamlined operations, improved efficiency, and a simplified process for data manipulation and analysis through visual analytics reports.
STRONG PARTNERSHIP AND SUPPORT:
Amplitude demonstrated effective communication, proactive customer service, and a deep understanding of the BSSH's unique patient and clinical needs. This collaborative approach fostered a strong relationship, allowing the BSSH to leverage Amplitude's expertise for ongoing support and optimisation of its registry data management.
COMPLIANCE & SECURITY:
Amplitude takes the security of the data it processes, on behalf of our customers, extremely seriously. As such, we have deployed the highest levels of security features in our software. This mirrors the BSSH's strict security policy, as they require that all clinicians who wish to submit their data must first obtain Caldicott Guardian Approval, ensuring the highest standards of data security and privacy. This significantly improved data protection, providing BSSH and its patients peace of mind.
ENVIRONMENTAL BENEFIT:
Through embracing the digitisation of patient reported outcomes, healthcare providers can significantly contribute to environmental conservation, promote sustainability, and reduce their carbon footprint. For BSSH, the introduction of Amplitude has resulted in the redundancy of manual posting of individual patient questionnaires. This not only saves valuable time and resources but also reduces paper waste.
Future Development
With 5 years of continuous growth, compliance within the registry has reached new heights. The wealth of data collected can now be effectively analysed by leveraging Amplitude's pro registry™ platform. This analysis enables the identification of areas for improvement, best practices, and training requirements.
By embracing digitised operations, the BSSH seamlessly contributes to national health research, ensuring improved patient outcomes in the future. Leveraging cloud-based technologies further reduces the need for energy-intensive physical infrastructure and storage, resulting in reduced energy consumption, aligning with the United Nation's Millenium Development Goals.
Amplitude's pro registry™ platform empowers the BSSH to drive innovation, optimise patient care, and make a positive environmental impact through efficient and secure data management.