Leading Global Provider
Amplitude Clinical Outcomes provides market leading software, globally recognised, used for the collection, management and reporting of clinical and patient reported outcomes.
Amplitude's software enables the electronic capturing and monitoring of patient reported outcomes as well as clinical data, that puts patients into correct clinical context (including case mix adjustment factors), allowing the effective monitoring of patient progress in real-time, for the treatment of post elective / emergency / trauma surgery, chronic illnesses
and diseases, mental health conditions and other clinical specialities.
What can Amplitude do?
Amplitude is the UK's leading provider of clinical data collection software, used for Clinical & Patient Reported Outcomes, Virtual Follow Up & Triage Clinics, Chronic Illness Patient Monitoring & Patient Experience Measures.  There are various platforms available for use by Individual Clinicians, Teams & Departments, Research Projects and Post Market Surveillance.
What makes Amplitude unique is the vast amount of pre-loaded clinical data that enables clinicians the ability to add appropriate and accurate case mix adjustment and monitor the progress of patients, picking up deviations from expected recovery and any post intervention complications.
Being web based, the system gives patients the freedom to complete scores on line, anywhere and on any device.  The clinicians' dashboard gives clinicians the ability to quickly input treatment and patient specific data.  All data is retained locally and is available in real-time for reporting and analysis.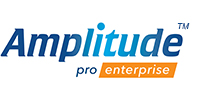 For Units, Departments & Hospitals
Amplitude pro enterprise™ is the first product to give an accurate, 'whole picture' view of your department or hospital's performance. The platform captures and reports on clinical outcomes for all patients or just specified groups e.g. registry patients or specific studies.
pro enterprise™ allows a team to collect data that is representative, accurate and meaningful giving you insight into your clinical outcomes.  Take back control of your data, retain it locally and provide valid evidence of the care you provide.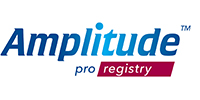 For Clinical Societies & Specialist Research
As a clinician, healthcare professional or researcher, you need accurate and meaningful outcomes data to learn more about treatments, diseases, injuries and procedures relevant to your speciality.
The ideal is to be able to collect standardised comparable data from a representative cohort of patients over a long period of time to enable in-depth research and analysis. Amplitude's pro registry™ platform offers a simple and effective solution that allows you to collect and analyse data on national or international scale.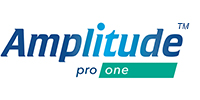 For individual Surgeons & Physicians
pro one™ gives an individual clinician the control to collect and manage clinical outcomes for all patients, both NHS and private, in one single platform.
The software is simple, web based and enables the clinician to automate outcomes collection pre and post intervention. With this process managed, the clinician can focus on validating data from the consultant dashboard, ensuring that it is fair and reflective of the practice undertaken.

Amplitude Pro Series Functionality
The Amplitude pro series has clinical priorities and needs at their heart, reinforced with the relevant security and innovation expected in a modern healthcare environment.
Our platform storage is cloud based with all the relevant security required to be an accredited supplier to NHS Digital. The platform has been developed to ensure secure, fast and scalable deployment.
Amplitude Platform Features
Amplitude's pro series™ platforms collect and report on clinical outcomes and patient reported healthcare data.  The platforms digitise the process, allowing patients easy communication with their clinical team, reporting on the effectiveness of their treatment.
The data is captured in near real-time and can be used to influence their care.  The digital nature of the platform means that clinical context can be applied to the data captured.
The long-term analysis of this data allows clinicians and organisations to establish which interventions and surgeries work well, on which types of patients and with which influencing factors.  It enables clinicians to understand what influences a successful outcome and what does not.
Amplitude has combined leading-edge technology with detailed clinical knowledge, insight and vision, to create a simple yet sophisticated tool, used every day by clinicians and patients.