As part of our standard system functionality, Amplitude Clinical Outcomes can automate the collection of Friends and Family tests from patients. The completed FFT questionnaires are anonymised, and then collated to create a bespoke spider-diagram that allows each clinician to see their patients' consolidated responses. Examples of the bespoke spider diagrams can be seen below: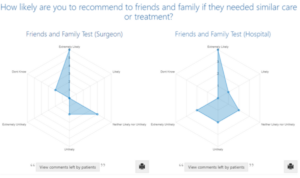 Two questions are asked. The first, "How likely are you to recommend your surgeon to friends and family if they needed similar care or treatment?" and the second "Overall, how was your experience of your surgeon?" 
A third, free text box is also available for anonymous comments for patients who wish to provide additional information or feedback. 
These Friends and Family Tests (FFT) are sent to patients 2 weeks and 6 months post-treatment via email or SMS. (This standard timing can be configured differently by each individual hospital or clinician should they prefer different time frames.) 
The FFT is an important feedback tool. It supports the fundamental principle that people who use NHS services should have the opportunity to provide feedback on their experience, but Amplitude enables this application to all patients, NHS and private alike. 
The clinician-based Friends & Family data and patient comments are largely positive, but the negative comments have been humbling. This leads me to reflect upon my practice and look at ways to improve in order to address the comments."
Dennis Kosuge, Consultant Trauma & Orthopaedic Surgeon, Amplitude user 
First introduced in 2013, the Friends and Family Test (FFT) will hopefully help guide service providers and commissioners in their decision-making, as they gain a better understanding of whether their patients were happy with the service provided or not. 
With millions of patients submitting their feedback each year, the FFT should have become an important feedback tool for hospitals and consultants alike, but very few clinicians are even aware that the tests are being conducted, let alone where to find the output.  With Amplitude, a simple click on the report icon automatically generates the F&F Report that not only sits very appropriately within the clinician's revalidation, but more importantly, gives them real time feedback on where they are performing well and where they can potentially make improvements. 
If you would like to find out more about how Amplitude can benefit you, please contact our dedicated Customer Support team at customer.support@amplitude-clinical.com or call us on 0333 014 6363.